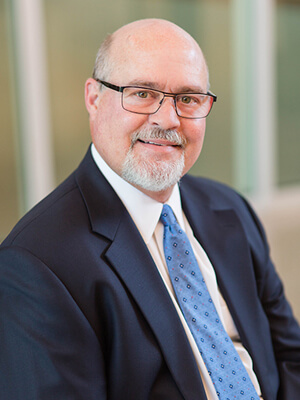 Brian McGovern
Since 1998, Brian McGovern has concentrated his practice in the areas of personal injury, workers compensation, and Social Security disability law in the southern Illinois region.
Brian was born in Belleville, Illinois, in 1964. He attended Southern Illinois University where he earned a Bachelor of Science Degree in Finance. Brian worked as a Bank Examiner from 1987 to 1989, and in private business until 1991 when he started law school. He attended Southern Illinois University School of Law where he earned a Juris Doctorate degree in 1994.
My Philosophy
I am aware that when you get injured you may be scared and worried because you don't know what to do or what is going to happen. You are worried about paying your bills, keeping your job, and what medical treatment you will need.
I will guide you through your case, so you do not have to worry.  I will answer all your questions.  I will take your phone calls.  I will fight for you and stand up for you.  I will make sure you are treated fair and the law is followed.  When I take on your case we are in the case together.
Employement History
1994 – 1998: Brian was employed with the Law Offices of Terry Sharp handling business litigation in Mt. Vernon, Illinois.
1998 – 2005 – Brian practiced with the law firm of Hanagan & Dousman, a long established personal injury law firm also in southern Illinois.
2005 – 2010 – He started his own practice, Brian T. McGovern LLC, again handling personal injury, workers' compensation, and Social Security Disability cases only.
2010 – Present – Brian and Steve Hanagan started the firm of Hanagan & McGovern PC in 2010, where they continue to concentrate their practice in the areas of workers' compensation, personal injury litigation, and Social Security Disability claims.
In addition to the Courts of Illinois and the Illinois Workers' Compensation Commission, Brian is also licensed to practice in the United States Federal District Court for the Southern District of Illinois and the U.S. Court of Appeals for the Seventh Circuit.
Publications
Brian is the author of "Workers' Compensation," Chapter 7, of the Illinois Institute of Continuing Legal Education's Starting Points: The Fundamentals of 11 Practice Areas, since 2012.  This IICLE publication is intended to help teach attorneys how to practice Illinois workers' compensation law.
Bar/Professional Association Involvement
Brian has served as President of the Jefferson County Illinois Bar Association and has held other offices with the Bar Association.  Brian currently holds memberships in the American Associations for Justice, Illinois State Bar Association, Illinois Trial Lawyers Association and the Jefferson County Bar Association.